JOIN OUR COMMUNITY
Sign up to join our database and become part of our community:
15 minutes per day 
15 minutes per day to learn English , uuff! I have been learning about how to study for 15 minutes per day to achieve success and really it comes down to planning. But, learning English is hard, even more so if you are trying to do it by yourself.
The older you are the more difficult it seems to be too. Well, that's the case for me anyway. Being able to speak with confidence in a second language is, in my opinion so liberating yet it is so difficult to do it alone.  
English really is a key language that will open doors for you around the world and it looks great on your curriculum too. But be careful, when you say you can speak English on your curriculum be prepared to be tested. Just as we tweak our CV (Curriculum) for each job we apply for (if you don't then you should be doing this) then we must tweak / adapt our English study for the purpose we are learning the language.
If you are learning for a specific reason such as career advancement or to go to an English-speaking university then you must have a strategy, set your goals and timeline. Without a scheduled plan of attack, you will go nowhere fast. For more about this look at my blog post – What is your WHY?
5 things that you can do to see a big improvement in the next 12 months.
Below are 5 things that you can do to see a big improvement in the next 12 months.
It will take a small commitment of 15 minutes per day to practice, this is only 1 hour and 45 minutes per week.
Establish a routine.

Make it fun.

Find encouraging people.

Learn the language around your interests / job.

Set goals and hold yourself accountable each day.
Take it seriously and set realistic goals, doing this alone is tough but the rewards are worth it.
What type of things can you do on your own to improve?
15 minutes per day of English is not a lot of time but if you plan your time and include the four key areas you need.
Reading, Writing, Listening, and Speaking.
Reading
Read a book in English, one you have already read in Spanish is perfect.
An even better idea is to listen to the audio book and at the same time read the words in the actual book.
Watch your favorite tv programs in English while reading the subtitles.
Social Media – join English speaking groups, follow English speaking teams and players so you can read their posts each day.
Writing
Write 3 to 5 sentences each day, this can be on social media posts and groups, where you can ask questions and respond to questions asked. Follow @linguaunited and ask me a question, I will help you to practice and answer your questions ????!
You can write out your training sessions in English and note down key phrases that you could use.
Listening
Listen to the news, football commentaries, music, tv shows, movies with subtitles, watch them over and over until you are confident you can understand every word in the correct context. With movies for example you can watch it the first time in Spanish and then watch it in English this will speed up your understanding.
Amazon Prime and Netflix are a good place to look for programs to watch, here are some that I watched recently that I enjoyed.
Take us Home – Leeds united
All or nothing. Tottenham Hotspur
The English Game
Sunderland 'til I die
First team – Juventus
Becoming Champions
Match commentaries are a great way too but if you really want to focus on football language used by coaches and players then I recommend that you join an English-speaking membership group, here for example we have the Coaches Academy by the Coaches Voice who have training and tactics videos as well as session plans which are great for practicing your reading. They also have content in Spanish.
Speaking
Speaking is one of the most difficult for some people to master. The usual advice on the internet is to find a native speaker to practice with and there you go within a few weeks you will be fluent. Easier said than done.
If you don't know a native speaker then I would recommend going back to basics and reviewing your pronunciation. Use listening exercises and repeat them to practice the pronunciation and intonation, use online courses, apps on your phone, google translate and you tube videos. You could also record yourself speaking, listen and repeat until you are happy with your pronunciation. Look here at our new online course – Back to Basics Beginners English.   This course is for beginners but is also particularly good for higher level speakers who want to revise their pronunciation.
The Fastest way
The fastest way to improve is to find a native speaker to talk to, practice conversations build up your vocabulary and improve your pronunciation. At Lingua United, all of our teachers are football coaches and so where better to find a speaking partner than here, practicing the real language of football.
Try to build your vocabulary each day. Imagine if you learned 3 words per day for 1 year you would know over 1000 additional words.
So as you can see there are many ways that you can study for 15 minutes per day English.
Follow us at @linguaunited and send an email to debra.ross@linguaunited.com and I will send you some planners / timetables to help you, choose the one you like and start to plan your 15 minutes per day English class.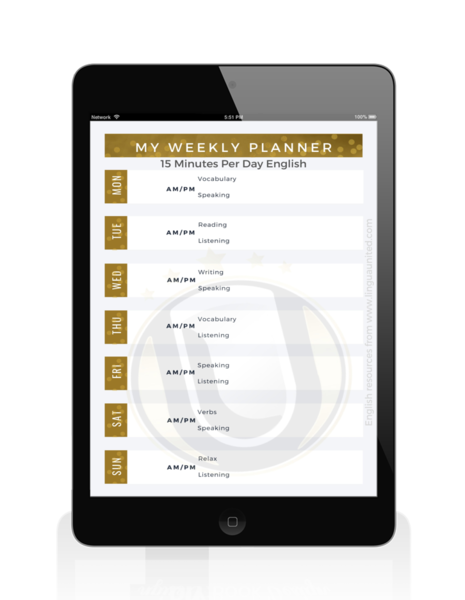 If all this feels like too much hard work and you haven't got the time to organize yourself or you want to advance quicker then you can always book one or two hours of English class each week with one of our native teachers and they will plan and coordinate everything for you with the aim of achieving your goals for the year.
If you want to have a chat about what you want to achieve then make an appointment here with me and we can talk through the options for you.
Read more blog posts here
Subscribing on the Lingua United website at www.linguaunited.com or follow us on social media.
See you soon and take care of yourselves.
Debra